New life for Palazzo Confalone with its finely decorated rooms and its corridors in which steps of illustrious men of the past, who have found hospitality here still echo.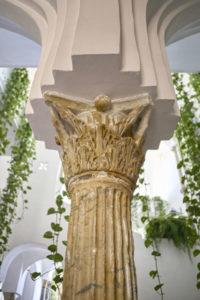 Palazzo Confalone will welcome guests soon in a unique atmosphere, driven by the new identity of the Sammarco family, owner of the Casa Vinicola Ettore Sammarco in Ravello. The rooms are under construction.
At the moment we welcome you at Villa Confalone, a refined villa 20 meters from the main home. Staying at Villa Confalone, you can take advantage of all the 5-star services of Palazzo Confalone.
The sixty-years old entrepreneurial experience in the production of Costa D'Amalfi DOC wines and the unconditional love for the territory were the lifeblood that has given life to this new exciting adventure. We aim to be the guardians of the immense historical-artistic heritage that is Palazzo Confalone.
The rooms set like little jewels in a casket will host you in all their brightness. The ancient windows will open your heart to the breathtaking scenery of the Amalfi Coast, that has no equal in the world. Nestled in the historic centre of Ravello, it will be a refuge for those who want to transform their holiday into an emotional experience.